The first thing that came to my mind when I first came across the longboards from Kahuna Creations was the fresh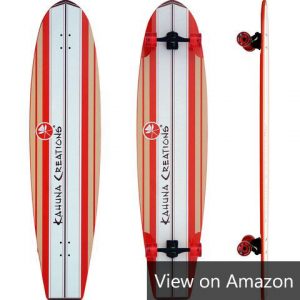 colors of summers and spring fruits. Kahuna Creations is one of the best longboard brands with a unique selling point of masterfully crafted longboards. The beauty of these Kahuna longboards lies in their unique shape, style, and fusion of colors. Kahuna Creations makes a variety of longboards each of which offers different decks for longboards. These longboard decks include drop decks which are way more stable than other longboards and one of the best longboards for cruising.
The Kahuna Creations longboards have become really popular over the past period and are gaining traction for its uniquely crafted longboards. The Kahuna Creations drop deck longboard is also one of the best longboards for beginners. Today, we will be looking in detail at one of the best drop deck longboards there ever was, the Kahuna Creations drop deck longboard. It is a hit with all of the people who have ever laid hands on it and I am sure you guys will found out why right after reading the review.
Decks
So, I for one, was very confused about which feature to focus on in this Kahuna Creations Master Crafted Longboard review. However, I found out soon that Drop Deck amazed me the most. It is actually quite a tough tie between the beautifully crafted graphics and soft colors and the shape of the longboard deck that makes it truly a dream to ride on. It is a classic big longboard, the length of this longboard makes it perfect for cruising and transporting over large distances. After one is done being blown away by the graphics, you realize how the drop deck shape of this longboard actually makes it such a fun and stable ride. The shape of the deck also makes it very easy to ride, it is two inches lower from the top point to give optimal control. This makes it one of the safest rides for the skateboarders.  The lower center of gravity makes you feel much safer, stable, and in control of your longboard. The front side of the longboard is actually quite wide, as wide as 10.5 inches and kind of tapers towards the end. This unique shape of the longboard makes it fit for both longboarding and land paddling actually.
Wheels
The wheels of this longboard are also of excellent quality and come in a variety of different colors. They measure 70mm and 82A which makes them good for acceleration and hard enough for a good slide.
Trucks
What makes this longboard even more high quality is the 180mm Premium Longboard Trucks.
Other features
Some of the features which make the Kahuna Creations Drop Deck longboard even more unique is the fact that the artwork is created by world-famous Dennis Mathewson.
Final Verdict
If you are not in love with this amazing longboard, I do not know what to say. It is truly a masterpiece and everything about this high-quality longboard makes it deserving of every penny you pay for it. I hope you enjoyed this Kahuna longboard review and that you will stay tuned for more amazing longboards.
Make sure to get your hands on some skate protection gear to protect yourself from inevitable injuries.
Cody Davis is a skateboard enthusiast and performer with years of experience in the industry. He is passionate to teach skateboarding to beginners and is associated with skateboard academies all over the world.